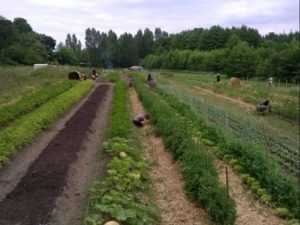 Tending the Earth
Humans are in conflict with the earth. Tending the Earth is a step toward healing this conflict.
Tending the Earth is the practice of mindfully working together in vegetable gardens or on small farms. It is a healing practice that can help us acknowledge the many injuries we are causing the Earth, allow us to recognize ourselves as part of nature, and fall back in love with Mother Earth. For two years I practiced Tending the Earth in Plum Village, the meditation center founded by Thich Nhat Hanh. There I was allowed to witness the transformation it produced in me and others:
"As people from all walks of life come together and joyfully sink their hands into the soil — some of them for the first time in many years — they experience a nourishing, heartfelt connection with their brothers and sisters, deepen their understanding of the entire web of life and offer their true presence to the earth. Working the soil in this manner is a bit like caressing the earth and being caressed by her in return.
During our mindful work we are held tenderly by Mother Earth just as we are, with all our joys and pains. Without discrimination, Mother Earth welcomes us back, perhaps wondering what took us so long. And so we experience a renewed love for Mother Earth, a renewed connection. We can now experience that the earth is not something outside of us but that she is in us and that we are a part of her. This is not a transformation of the head, but of the heart. It takes root slowly, almost without notice, unfailingly."
(Excerpt from a post I wrote for plumvillage.org plublished on Feb. 22, 2016.)
Tending the Earth is best practiced in groups in urban vegetable gardens or on small farms. Access to these sites varies from season to season and depends on the specific requirements of those managing them. If you would like to Tend the Earth with your group, please contact me with your needs and we'll see how, when and where to best accommodate them. 
Tending the Earth in Germany, France and the USA.