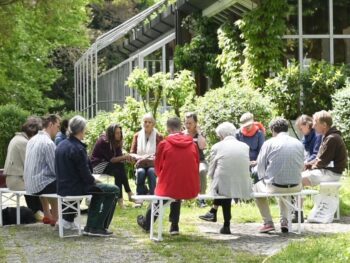 Conversations that Matter
Mindful dialogue focusses on listening and being present for the other. Often when we think we are listening, we are actually thinking about our next response.
I offer to facilitate your group's retreats, conferences, strategic planning and other events. In a safe, structured, yet dynamic setting, I work to elicit broad, authentic participation across diverse individuals and viewpoints. Through conversations that matter, i.e., exchanges about that which is most meaningful and alive in them, participants get to know and understand one another, discover their collective wisdom and acquire insights for improved collaboration and quality results.
Sharing circles help build a sense of connection and kinship among participants. To the sound of a bell, we take time to sit and walk in silence and to speak about our joy, pain or anything inside us that pushes to be expressed. We practice loving speech and compassionate listening, thus giving rise to mutual understanding and planting seeds for peaceful interactions in the future.
Sharing circles can be themed according to your group's specific needs:
Dealing with organizational change
Dealing with loss
Addressing conflict, divisions and fractioning
Stress management
Celebrating positive occasions
and more
Sharing circles can easily be integrated into various group activities, including mediation (as peace circles), strategic planning retreats, conferences and team-building events. They are effective in supporting authentic, trusting and joyful relationships.