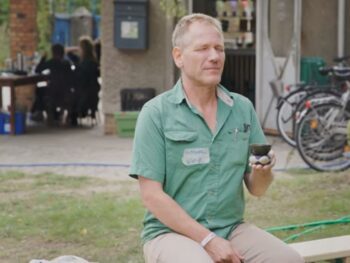 Mind, 

Heart &

 

Body: 

A Somatic Approach
In my work with clients I always strive to offer a customized and needs-based approach. I believe that no two situations are the same and each mediation or facilitation requires its own style and process.
Depending on clients' needs and preferences, I sometimes like to invite them to experiment with a somatic approach to conflict and communication. This approach is influenced greatly by my experiences with mindfulness practice. It seeks to simultaneously cultivate an open mind, an active heart and an alert physical presence. Central to this approach is the understanding that mind, heart and body are not separate entities and that conflict has a somatic dimension (that is, it can be sensed clearly in the body). This dimension is influenced by our thoughts and emotions and, conversely, influences our thoughts and emotions. This is why bodywork can be so useful in cultivating a more effective conflict behavior.
When people feel triggered by someone during a conflict or tense conversation, strong reactions can quickly occur. Anger, judgment, accusation, outrage, or immediate appeasement and withdrawal are among the conflict patterns that many of us repeatedly experience as if by some self-executing, internal program. Somatic practices such as mindful breathing and walking, body scans and physical movement, especially if practiced regularly, can help by inserting a "wedge of awareness" into these internal programs.
The wedge of awareness creates the space to:
sense important signals our body is sending us, e.g. of exhaustion and overextension, indicating that we may need a break or to otherwise care for ourselves, and
become conscious of our conflict patterns, evaluate if they are actually serving our interests and possibly replace them with other responses.
For clients wishing to soften their conflict behavior and to engage more cooperatively, it can also be helpful to practice "activating the heart," which is to say, to direct their purposeful attention toward generating an empathic ("heartfelt") connection with themselves, with the conflict, and, if possible, with the other party. Doing so trains the "empathy muscle" until it becomes strong enough to offer a real alternative to more established conflict patterns involving anger, indignation or accusation.
Conflict as Opportunity
Last but not least, part of the approach I've described here is my belief that conflict is not only a threat, but also an opportunity — an opportunity to stop and listen, to ask questions and be curious, to sense into our bodies and explore our hearts, to get to know ourselves better and ultimately to find ways to meet people's ever-changing needs. It is my very personal wish to use this opportunity with respect and care, long before conflicts escalate.